---
Critical Podium Dewanand
Literature
---
PRESS RELEASE WITH VIDEO TRAILER EMBEDDED


Everything You Always Wanted to Know About Islam

Koran: Forbid or Rewrite? A Guide for Peaceful De-Islamicization provides an inside look into the Muslim religion. Raised as a Muslim, Hindu writer Dewanand answers many of the questions asked about the religion. His book is written to commemorate the Islamic attack on the Twin Towers 10 years ago, and to reconsider how best to tackle terrorism.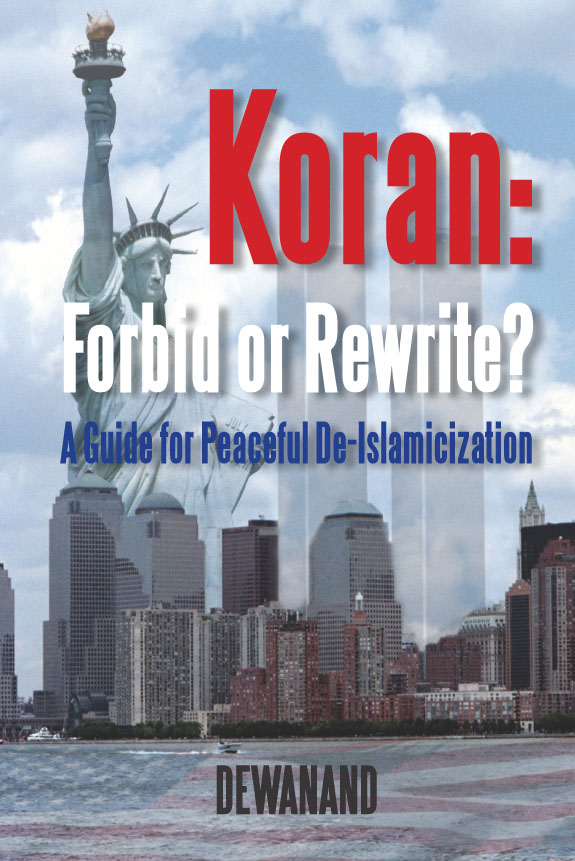 Sacrificer           dewanand
Sacrifice code       bookkoranforbid03.htm
Sacrifice date       9 may 2011

See this link for the Book Video trailer on youtube:


Why is the Koran the deeper abstract cause of terrorism, and what can Muslims and non-Muslims do about it? How can we help liberate Muslims from medieval ways of thinking? What is a real Muslim and how should we define an anti-Muslim? "I wanted to reform Islam and end the suffering and violence in many Islamic nations. I was raised as a Muslim by my mother and later on I converted to Hinduism," Dewanand states. His book represents the meeting point of three civilizations: Islam, Western and Hinduism.

KORAN: FORBID OR REWRITE? A GUIDE FOR PEACEFUL DE-ISLAMICIZATION (ISBN: 978-1-60976- 065-6) is available on March 29, 2011 for $35 and can be ordered through the publisher's website:





Wholesalers please email BookOrder@AEG-Online-Store.com

About the Author: Dewanand grew up in Surinam and at age 20 went to Holland to study. He now lives in Delft, Holland. He has published numerous books in Dutch and these can be found on his website, www.dewanand.com.

Strategic Book Group, LLC


ABOUT: Strategic Book Group provides book publishing, book marketing, and e-book services to over 10,000 writers around the world, employing 150 people who live throughout the US and work virtually through telecommunication. Strategic Book Group is experiencing over 30% growth per year, having published approximately 3,000 authors with almost 100 new releases per month. Our books are available through Ingram, the largest book distributor in the world, as well as in bookstores, through Amazon, Barnes & Noble and all online channels. Strategic Book Group attends and exhibits at the major book expositions in London, New York, China, and Germany each year.

To follow us on Facebook:
To follow us on Twitter:
To follow us on Linked In:

Book info:
Book title: Koran: forbid or rewrite? A guide for peaceful De-Islamicization
Soft Cover - 6x9 - 686 pages - $35.00
Publisher: Strategic Book Group (SBG), USA, New York
ISBN: 978-1-60976-065-6

See these sites where the video is released:
Check out the contents list, and see all chapters:

To buy this book see this official Author's site:


***
---
Critical Podium Dewanand
Literature
All rights reserved.
---