---
Critical Podium Dewanand
Literature
---
Book: Koran: Forbid or Rewrite By Dewanand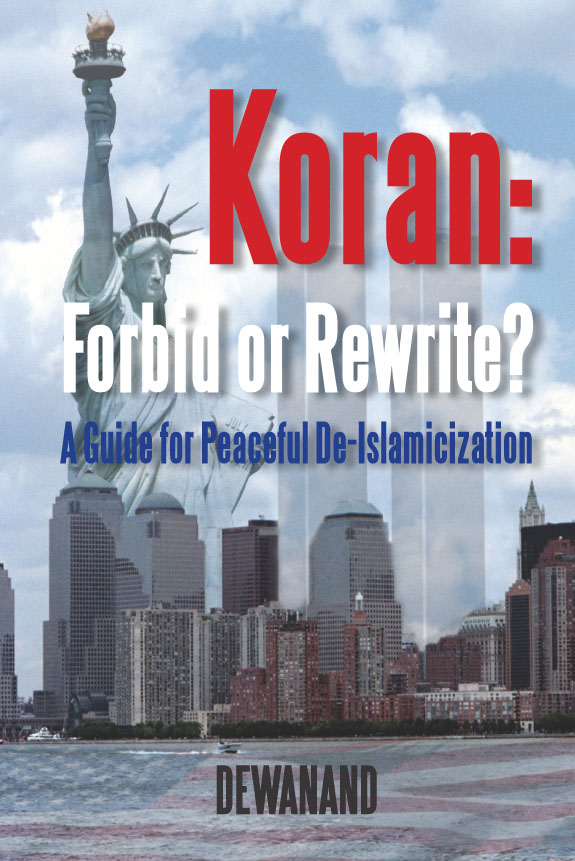 Sacrificer           dewanand
Sacrifice code       bookkoranforbid.htm
Sacrifice date       31 march 2011

About the Book

Why is the Koran the deeper abstract cause of terrorism? What can Muslims and non-Muslims do about this? How can we help Muslims liberate themselves from medieval ways of thinking? Is there more in the world than Islam, Mohammed and terrorism? What is a real Muslim? How can an anti-Muslim be defined?

Hindu writer Dewanand provides answers to all these questions in a striking and scientific way, trying to present the interests of both Muslims and non-Muslims in a tactical way. Dewanand says he wrote this book to make sacrifices to Altecrea and to show concern for all living creatures. Discover for yourself if he has reached his goal, when you read Koran: Forbid or Rewrite?

In the first chapters, the PV Muslim scientific model scale is revealed. This is a psychological vectored model for classifying Muslims to understand them better. Dewanand says his book is intended to show respect for Muslims and to help them to grow spiritually. "I wanted to reform Islam and end the suffering and violence in many Islamic nations. I was raised as a Muslim by my mother and later on I converted to Hinduism."

His book is the meeting point of three old civilizations: Islam, Western and Hinduism. That's why it is so important for the future of Islam and religion.

About the Author

Dewanand grew up in Surinam and at age twenty went to Holland to study. He now lives in Delft, Holland. He has published numerous books in Dutch and these can be found on his website, www.dewanand.com.

Book info:
Book title: Koran: forbid or rewrite? A guide for peaceful De-Islamicization
Soft Cover - 6x9 - 686 pages - $35.00
Publisher: Strategic Book Group (SBG), USA, New York
ISBN: 978-1-60976-065-6

Check out the contents list, and see all chapters:



See this link for the Book Video trailer on youtube:


To buy this book see this official Author's site:

Read some professional reviews online:


Read one interview with Dewanand by Norm Goldman:

Join this facebook Group: 'Fight Islam. Book: Koran forbid or rewrite?


Also see these book sellers online in your own country or region, deeplink list to book 'Koran forbid or rewrite?:




Ebook version on the web, links
***
---
Critical Podium Dewanand
Literature
All rights reserved.
---